La bague et le manchon en alliage de chrome cobalt sont les produits avantageux pour nous, nous avons produit plus de milliers de spécifications et tous sont produits sur le dessin du client.

Il existe deux types de processus dans notre entreprise, les produits PM et les pièces moulées. Ils ont chacun des avantages et l' alliage de chrome cobalt est appliqué dans les industries telles que le nucléaire, la pétrochimie, la batterie, la nourriture, etc.

Tous les produits peuvent être fabriqués sur le dessin du client, donc lorsque vous avez besoin de stellte, veuillez ne pas
N'hésitez pas à nous contacter .

caractéristiques du produit

1. Résistance à haute température
La résistance reste stable jusqu'à 800 ℃ et peut même être utilisée momentanément à 1200 ℃.

2. Résistance à l'usure
En raison principalement des caractéristiques inhérentes uniques de la phase de carbure dur dispersée dans un
Matrice d'alliage CoCr, elle présente une résistance exceptionnelle à l'usure et au grippage.

3. Résistance à la corrosion
Cette propriété exellente et agréable permet à ce type de pièces matérielles d'être utilisées dans le pétrole et le gaz, le lisier, les liquides acides et tout autre milieu.

Exigences techniques de nos coussinets

Dimensions, dessins, tolérance, finition de surface, rayon, selon vos demandes.

Faites-nous savoir vos demandes, nous vous ferons part de vos commentaires dans les 12 heures.

Application typique
| | | |
| --- | --- | --- |
| Material Choose | Typical Application | Process |
| ST 6 | Steam and chemical valve seat , oil and gas pump sleeve, ,butterfly valve bushing ,hot-dip galvanized production line used bushing etc. | Powder metallurgy & investment casting |
| ST 3 | Pump sleeve ,rotary ring , valve seats | Powder metallurgy & investment casting |
| ST 12 | Extrusion die , hot impact die and saw teeth | Powder metallurgy |
| ST 100 | Extrusion die , hot-impact die and saw teeth | Powder metallurgy |
| ST 20 | Pump sleeves , rotary rings , bearing sleeves , valve balls | Powder metallurgy |

Images en détail






Quels sont les détails de nos bagues et manchons en alliage de chrome cobalt ?
| | |
| --- | --- |
| Material : | Cobalt Chrome Alloy |
| Process : | Powder Metallurgy , it is short for PM and investment casting |
| Hardness: | 38-50HRC |
| Density : | 8.4 g/cm ³ |
| Size : | Diameter 8-500mm and maxium length 500mm |
| Properties : | Wear and corrosion resistance, high temperature resistance |
| Application : | Oil and gas equipment such as pump , valve , other environment need wear and corrosion resistance parts |
| Instructions : | Drawing made upon cutomers request |
| Tolerance control : | turning or grinding surface , tolerance upon drawing |
| Production lead time | Normal order 15-25 days |
| Production capacity : | 20,000pcs one month. |
| Package : | carton or wooden case , pallet for export |


Précession de production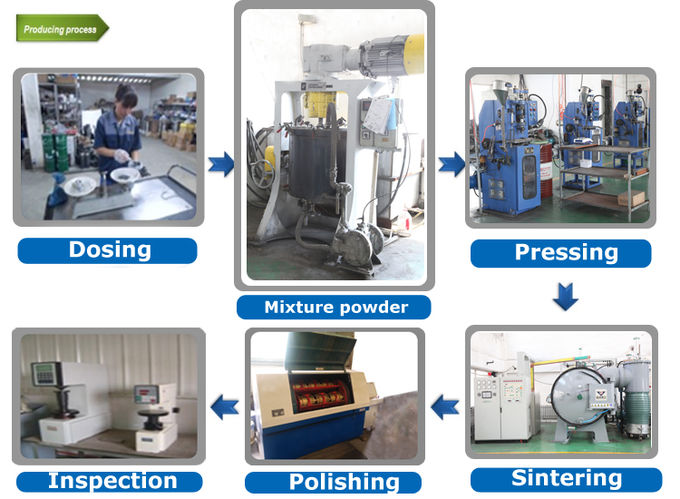 Pourquoi nous choisir?

-Notre foi est que la qualité et les exigences des clients sont toujours la première chose importante pour tout le monde dans notre entreprise.
1. 15 ans dans la production de pièces en alliage de cobalt et 10 ans d'expérience dans l'exportation.
2. Fournir des solutions professionnelles.
3. Notre propre équipe de R&D a un backgroun professionnel et une excellente capacité d'innovation.
4. Capacité conçue de dessin et production adaptée aux besoins du client.
5. Une petite quantité est acceptable.
6. Rétroaction rapide et bonne communication en anglais.

FAQ:
Q1: What is the Warranty for our products ?
A1: We own high precision grading machine to control geometry dimensions and apply ultra fine grain size substrate coated with high performance coatings to guarantee the lifetime of our products, which can satisfy every working condition.If any quality problems on our side occurred in this period , we will take on the shipping cost and replacement.
Q2: Do you provide free samples?
A2: Yes, usually we provide free samples for testing under the condition of freight paid by customer.
Q3: What is your minimum order requirement?
A3: We will indicate the MOQ for each item in the quotation sheet. We accept the sample and trial order. If the quantity of single item can't reach the MOQ, the price should be sample price.
Q4: What is the delivery time of your products?
A4: It depends on the inventory availability.If items needed are in stock, the delivery time would be within 8 work days, but if not the delivery time would be around 20 work days.
Q5: Can you manufacture Special-shaped products?
A5: Yes, we can. We can produce both standard and special prosucts. We can make them according to your drawings and samples.
Q6: May I have my order working schedule?
A6: Yes, we will send working schedule of your order each week. We will inspect and test all merchandise in case of damaging and missing parts before shipment. The detailed inspection pictures of the order will be sent to you for your confirmation before delivery.


Emballage et expédition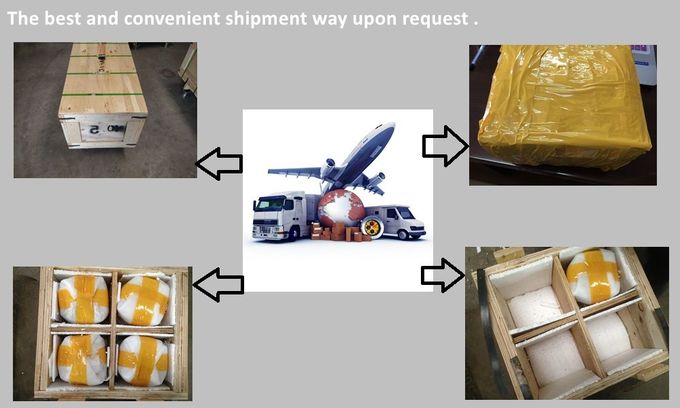 Vos commentaires sont notre meilleur honneur, n'hésitez pas à nous faire part de vos précieux commentaires. Contactez-nous dès maintenant!